Shipping Rates and Information

We are now happy to offer multiple shipping options on most orders!

Bughaus Super Saver Shipping

On orders up to $25 in products, we offer the Bughaus Super Saver Shipping option via USPS for $10.95. As we understand that sometimes you just need to place a small order, we've decided to offer this shipping choice which is designed to save you some money on these orders. This shipping option can only be used on smaller parts so while not every part we offer is eligible for this shipping option, thousands of them still are!
If your order is eligible for this option, it will show as a shipping choice.
If you have any questions about shipping costs and procedures, contact us!

FedEx Shipping

Most orders within the 48 contiguous US states qualify for FedEx Ground shipping. The cost of this option is determined by both your order size and where you are located (just enter your zip code in the cart to get your shipping costs).


Minimum Order
We do not require a minimum order. If you only need a few nuts and bolts, that's fine with us!

Oversize / heavy / delicate items
Some items will show an additional shipping charge added to the item on our site. This is due to the item requiring oversize charges from the carrier, extra weight which pushes it out of normal shipping charges, size issues which may require the item to ship by itself, or delicate items which require extra or unique packaging (or any combination of the above). These charges will stack unless we determine otherwise. While our cart will view these charges as part of the product total and determine your base shipping charges based on them, we will back them back off when processing your order.

Next Day, 2nd Day, and 3rd Day Air Service

via

FedEx Air
This

is available on most shipments for an additional charge. If you would like your order shipped this way, please let us know when you place your order and we will quote you the additional shipping cost.

Incorrect Address / Reroutes


If you make a mistake and your shipping address is incorrect or you contact FedEx or have us contact FedEx on your behalf to change the destination address after your box has shipped, we will charge your card $11 which is what FedEx charges us for an address change. This fee does not apply if we incorrectly address your box.

Misc.
We can not use your personal or business FedEx account for orders. Further we can not ship via other carriers for your area besides the ones listed unless it's at our discretion, and the shipping charges will remain the same if we do so.


We are not able to tell the carrier where to deliver your package. Instructions on orders that request we leave your package behind the woodpile on your back porch will be ignored. If you need to arrange specific delivery instructions, you must contact the shipping carrier and speak to them.


We reserve the right to refuse orders or limit quantities for any reason.
Shipping to Hawaii, Alaska, Puerto Rico, Guam and Military (FPO / APO) Addresses.
Bughaus Super Saver Shipping is an option for all qualifying orders within the non-contiguous US. If this option is not listed, we will quote you before the order ships. Your orders will ship via Insured USPS Priority Mail.

Shipping to Canada
We will quote you before the order ships. Your orders will ship via Insured USPS Global Priority Mail.

International Customers
Currently we are not shipping Internationally other than Canada due to shipping delays and other reasons but please contact us if you need an order and we may be able to accommodate your order.
We will ship almost anywhere in the world via Insured USPS Global Priority Mail. You can place your order from our website using your Visa, MC, American Express or Discover. Before we process your order we will contact you with a shipping quote. Please note that there are some countries that we do not accept credit cards from - we will let you know after you place your order if this is the case and inform you of alternate payment methods. At our discretion, if we do accept credit cards from your country, we may request additional proof that you are the valid card holder - again we will let you know after you place your order if this is the case.
Our shipping quotes on international orders are the exact cost of shipping plus a $5 customs paperwork fee. The quotes do not include any taxes, levies, or duties that your respective country may place on the shipment - you are responsible to pay this. Any orders that are refused after shipment will be charged a restocking fee and shipping charges (both ways if applicable) are not refundable.

And no, we can not ship your order in an envelope to 'save some money'. All international orders ship in boxes with tracking and insurance (if available) with full custom papers.

Please note that not all items can ship internationally due to size and customs restraints! We will notify you prior to shipping if we are unable to send any part of your order.

If you have any questions about international orders, please contact us!

Estimated Shipping Times for FedEx Ground Service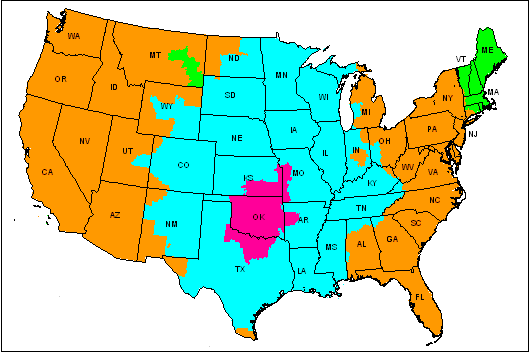 Please note:
1) Some rural areas may require a few extra days for delivery.
2) Shipping times are only estimates, not guarantees.
When will my order ship?
| | |
| --- | --- |
| Order Placed | Normal shipping date |
| Monday | Tuesday |
| Tuesday | Tuesday |
| Wednesday | Wednesday |
| Thursday | Thursday |
| Friday | Friday |
| Saturday | Tuesday |
| Sunday | Tuesday |
Most orders that are placed Tuesday thru Friday by 2pm Central Time are shipped same day. However, your order can be delayed if experiencing a high volume of orders or if there is a problem with your order (incorrect credit card information, declined card, etc).
So, these dates are not guaranteed, but we do our best to stick to them.
Small orders shipped via USPS may be delayed for 1-2 days before they are expedited.

Internet Order Security
We have a company policy that orders over a certain price point that are your first order with us either must ship to the billing address or you must have the shipping address on file with your credit card company. We reserve the right to refuse any orders that do not pass our company's security protocols.
If you have any questions about shipping costs and procedures, contact us!