We're constantly adding new products to our vast inventory! Here's a small selection of some recently adding ones!

Last Updated: 12/17/2016

Fuel Filler Flange
$29.95
When VW eliminated the fuel door on later Buses, it exposed the fuel filler flange under the gas cap to the elements which can cause them to rust once their protective plating wears off. Discontinued by VW years ago, we're proud to now offer a top-quality reproduction that's made in Germany!

Headlight Wiring Grommet
$3.95
Now available is the grommet in the 68-79 Bus headlight buckets where the wires go through. Your original grommet is probably old, cracked, and painted over after all these years. As it falls apart, your wiring can rub against the headlight bucket causing a short. These new grommets are an exact reproduction of the original!
Economy Piston and Cylinder Sets
$149.95 - 199.95
We are normally very gun-shy of Chinese-made engine components. While China can make good quality parts, many vendors only ask them to make the cheapest part possible. These new piston and cylinder kits from the OE Brand are the exception to the rule. These are made to very high standards and the final quality control is done by FPD (who owns the OE Brand) in Florida. We've used these pistons and cylinders in many engines we build in-house and have had no issues at all. They are a cast piston so they should not be used for any turbo applications. For an economical but still high-quality build, we highly recommend these! We offer these in two sizes:
85.5mm (1600cc) - $149.95
90.5mm (1776cc) - $199.95

Deck Lid Latch Plate $6.95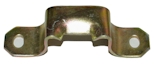 After 40 years this latch plate can really get beat-up and make your deck lid difficult to close. Luckily these new reproductions are inexpensive, easy to install, and well- made!
Throttle Body Seal $7.95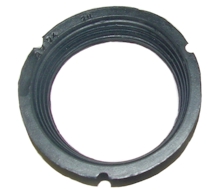 If you're still running the original fuel injection then this piece is vital to replace. Fits both L-Jet and Digijet throttle bodies.
Rear Wheel Bearing Spacer $15.95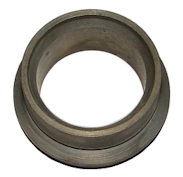 Finally available again are the incredibly tough to find rear wheel bearing spacers for the big nut 64-67 Buses. These are made exactly as the original for years and years of service!
Autostick Transmission Pan Gasket $4.95

This item has always had a sketchy supply history and recently disappeared entirely. Luckily it's gone back into production again and is not only excellent quality but also made in the US! If you've got an Autostick in your VW then you know that stockpiling parts is a key to it's survival so be sure to grab a few of these gaskets while you can!

While this is an item we've always offered in the form of a very nice quality reproduction - we've just found a small quantity of Genuine VW ones that we're happy to offer! Get 'em while you can as the supply is very limited.
Brake Line Connector
$12.95



Now available again from Germany is the brake line connector used on the right side of IRS Beetles, Ghias, and Things. After 30-40 years, many of these are getting pretty chewed up so it's great that this part is out there again!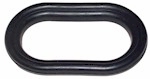 VW recently discontinued this item but thankfully a reproduction of it is now available. Used only the base for the right-side hose on Type 4 engines (the hose with the oval-shaped end). An important part to help keep your engine cool!


Oil Cooler Base Sealing Frame
$16.95



Infamously known as the 'Hoover Bit' due to Bob Hoover making the air-cooled world aware of this part's importance to proper air-flow at the base of the oil cooler. Usually thrown away back in the day these little guys are normally missing and tough to find a replacement for. Now they are available again new and are an excellent reproduction! We highly recommend using all of the correct tinwork on your engine and this piece should not be overlooked.
Splittie Bus Ashtrays
$19.95 - primer
$24.95 - chrome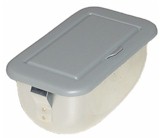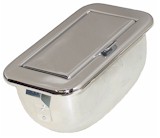 Now available is an excellent reproduction of the original Bus dash ashtray used from mid 1955-1967. Many times these are rusted or missing so these new ones solve a problem many Bus owners run into and for a very reasonable price. The primered top version is ready for paint while the chrome is original for Deluxe Buses but will fit all models.

9-pin Flasher Relay
$64.95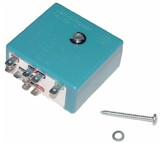 While there have been quite a few reproductions over the years of this elusive relay, none have ever been a spot-on reproduction not only in looks but also in function. This new production mounts and wires up exactly the same as the Hella original!


Alternator Adjustment Hole Cap
$8.95



Over the years most of these have been removed and lost during rebuilds and maintenance. VW discontinued them long ago but they are available again and are an excellent quality reproduction!
Sliding Door Lock Seal
$5.95



The elusive door lock seal for late Bus sliding doors is available again! This seal goes in and out of production so get one while they're in stock!

Steering Box Lock Plate
$1.95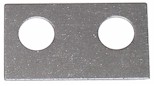 Lock plates are an important part of any correct and safe rebuild. More and more of these are becoming available and the newest addition is for the early Bus Steering Box.


Often missing, this lever fits on the fuel reserve tap on early Buses and is the connection from the tap to the reserve lever cable.


Connector from the Deceleration Valve / Brake Booster to the Center Plenum
$19.95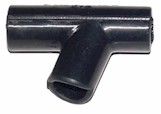 Another elusive part for the late Bus is available again! Over the years most of these original Y-Connectors have become cracked causing nasty vacuum leaks.
Shifter Ball Housing
$9.95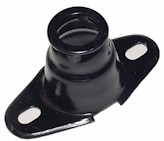 Now available outside of the shifter kit is this shifter ball housing for the 1956-1979 Buses. This is the later style housing started in the 70's that has cut-outs for the reverse lockout plate with the ears, but will work on earlier Buses. It functions fine whether your reverse lockout plate has the ears or not.
German Oil Cap


$7.95

If you've been searching for that correct finishing touch for your engine compartment, look no further! Available again are real German oil caps with all the correct original details (brass rivets, ribbed grip, and German "OEL" marking).

Sway Bar to Body Retaining Bracket
$12.95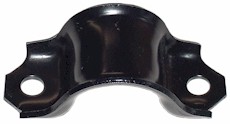 With the oldest Super Beetles now hitting the 40 year mark, some parts that normally wouldn't wear down are starting to show their age. If your sway bar brackets are beat up or rusted, we now carry brand new German ones made by the original manufacturer!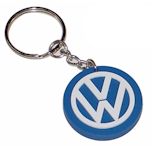 VW Logo Keychain
$6


This high-quality PVC keychain will look great hanging from your ignition! And since this is a genuine VW-licensed product, you know the quality is top-notch!

Fresh Air Knob Bushing
$3.95 each
If your fresh air knobs don't turn smoothly, most likely these little bushings are shot. Long out of production and never reproduced, this part is available again and they are a great reproduction which will provide years of use!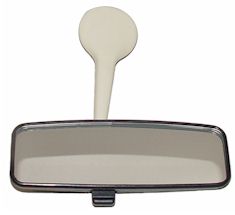 1968-1977 Interior Mirror
$39.95


For years the only choice late Beetle owners have had for a replacement mirror was the VW of Brazil version which worked but didn't look correct. However a new reproduction is now available and it is spot-on to the original. It has the correct arm shape covered in textured white vinyl to keep your Beetle looking authentic.


Fresh Air Fan Knobs
$5.95 each






Finally available! These are excellent quality German reproductions that are practically indistinguishable from the originals. Both early and late versions are now in stock.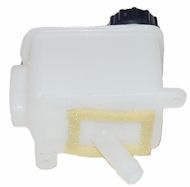 Brake Fluid Fill Reservoir
$19.95
Now in stock are the elusive brake fluid fill reservoir for 1973-1979 Buses. The best part about it - these are Genuine VW so the quality can't be beat! Comes complete with cap.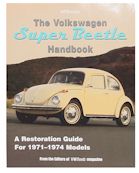 The Volkswagen Super Beetle Handbook
$21.95

Though intending to focus on the hardtop Super Beetles (really made until 1975, unlike the book states) this book is actually a great tool for anyone restoring any later standard Beetle. As Super Beetles were primarily a front suspension upgrade (and later a dash change and windshield change), most of the information in this book can not only be applied to 68-77 standard Beetles but also to earlier models to some degree.
German Bus Master Cylinder Reservoir
$28.95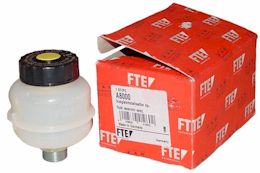 If you're looking for the best reservoir made for your early Bus, then your search is over! We have managed to get in a small shipment of the rare German-made version! While the economy version we sell is not bad but not great, this one not only looks the part but also acts it! Nothing says quality and longevity like real OEM German parts!
Never before reproduced - the elusive red round heater knob! Used on in the mid-60s, these knobs not only help distinguish your two heater knobs but also add a touch of color to your interior. They can be used on all years that had the original round heater knobs and can replace the black knob if desired.
Maltese Cross License Plate Bolts





Dress your VW up with these cool looking license plate bolts! The Maltese Cross license plate bolts will remind everyone that real VWs were made in Germany!

Only $6 a pair in your choice of red or black!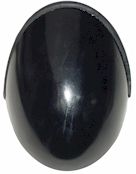 1958-1963 Beetle License Light Assembly
$49.95
An excellent reproduction of this part is finally available! Comes complete with everything except the bulb.

Generator Bearing


$6.95 each

Finally in stock! Genuine FAG Brand bearings. Fits both 6 and 12v generators - two required.



Front Apron Access Plug
$13.95

Sometimes missing and usually damaged after all these years is the front apron shift rod access plug. If you're ready to get painted, now's the time to replace it.